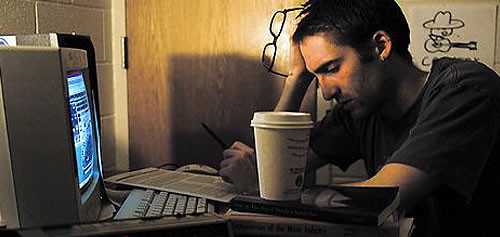 I bet many of you, guys, faced this situation in the past. One month seems to be enough for writing a 10-page paper, but you never start from the first day. And you missed the second one too. And the third…Most probably, you're starting to write one week before submission, but we will talk about the situation when you need to write an essay in 1 day or even in hours. So, what if you suddenly realized that you missed all your deadlines? Here is the ultimate guide of last-minute essay writing which is supposed to help solve your problem.
Don't Panic!
Panic isn't your best friend in this situation. So, try to calm down, exhale, count to ten and try to be more cool-headed. Basically, your choices are limited to the following:
to write an essay by yourself
The first option can be considered a good one if you can handle this task. Probably, you're at risk of failure because of the lack of experience and time, but sometimes people can do incredible things overnight. Just tell yourself: "I can do it!" and get down to the job.
The second option guarantees good results, but you will have to pay. What if you don't have money at the moment? If you do, don't hesitate and start to check the best writing service reviews to find a writing agency which can handle your task.
Create a Working Ambience
Sometimes students realize they are in trouble in the evening. Imagine you have one night at your disposal to perform that magic. So, how to write an essay in hours?
Remember that warmth, comfortable furniture and soft pillows are your worst enemies. Try to find a chair and a table to create a working atmosphere, turn on light music and then concentrate on the topic. You may wish to use your kitchen or another place where sleeping isn't possible. Your bed must be out of reach. Open a window to let fresh air in. Otherwise, you can find yourself sleeping on the keyboard in the morning. Then, start to write an essay.
Remove All Distractions
We are often tempted to check our social network accounts when doing something. This is when you have time to do it, but now you don't. Block your Twitter, Instagram, Facebook, Pinterest, YouTube – whatever you use – to be more productive.
Steps to Write an Essay
Starting from formatting or referencing isn't a good idea. Do it when you finished your essay. At first, you should take care of the content and structure of an essay. Further, you need to:
Find a problem
Brainstorm ideas
Make a perfect outline
Browsethe internet for relevant materials
Paraphrase and reword
Make an analysis
Make conclusions and summarize your findings
Format your essay
Check grammar, style,and typos
Proofread
Make the bibliography.
Divide the whole essay into several parts and assign a number of words for each part of your essay. This will help you follow from one point to another and concentrate on each part of the text at a moment when you write your essay.
The best way to write an essay is to make a good plan. For example, your outline may look like this:
Introduction – 300 words – 30 minutes;
Research problem – 200 words – 20 minutes;
Research background – 500 words – 1 hour;
Literature review – 500 words – 1 hour;
Analysis of the research problem – 800 words – 1.5 hours;
Research findings – 500 words – 1 hour;
Conclusion – 200 words – 30 minutes.
Try to follow this outline and not to exceed the time limits you set for completing each part. This will help you control the time and distribute your efforts accordingly. This way, you can complete a 3000-words paper in less than 7 hours!
Technical Moments
Here, we offer some tips on how to complete your essay fast without a significant decrease in quality:
Do's:
Be creative
Write the whole essay
Clean up the essay when you'vefinished
Don'ts:
Don't get much into details
Don't try to make perfect sentences
Don't give a lot of examples
Be Careful
Undoubtedly, your nocturnal vigil isn't healthy at all, but try to do it less harmful since you need to finish and submit your assignment on time. Some tips of how not to die when studying at night:
Drink a lot of water to stay hydrated
Blink occasionally to provide hydration of the surface of your eyes
Breathe fresh air not to fall asleep
Drink a cup or two of strong coffee without sugar to wake up if needed
Avoid sugary drinks as they don't combat sleepiness effectively
Take a short 15-minutes nap if you feel sleepy
Eat simple food like an apple or an orange as fruits provide more energy than caffeine
Avoid heavy and fatty food
Make exercises for 5-10 minutes – this will make you feel refreshed.
Finalize
We hope you finished your essay with the help of our instructions. Now it's time to refine, revise, proofread, and clean up. Don't be afraid – it will not take a lot of time. You've already done the main job.
In order to refine your essay, you need to do the following:
Re-read your essay
Make necessary corrections
Remove the parts that don't fit in
Observe the flow
Check if all claims are supported by facts
Add any missing information
Do the final proofreading – you may use editing and proofreading tools available online.
In Summary
You're not the first, and, definitely, the last person who is going to face the challenge of writing an essay the last minute. Many famous people are familiar with nightly creativity: Kafka, Poe, and Dickens to name a few. However, it would be better if you don't write your essay in this way. Now print it out or submit online and go to bed.